Choithrams' journey towards becoming a brand of choice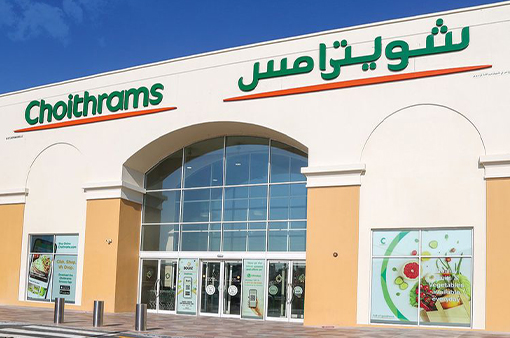 Feb 22 2023
Made in UAE retail brand makes significant strides towards its vision of success
Since the launch of its first store in the UAE in 1974, and with its 50th anniversary in the region soon approaching, leading retail and distribution chain Choithrams continues to make significant strides towards its vision of success. Over the years, the company has grown its brand portfolio, strengthened its channels, and embraced sustainability and technology in all its operations.
With the seamless integration of its retail, distribution and manufacturing capabilities, the company has steadily increased its GCC footprint across Bahrain, Qatar, and Oman, and continues to roll out aggressive growth plans for 2023. Regionally, Choithrams spans over 1 million square feet of retail space, an unparalleled distribution network that services 90 per cent of the food outlets across all trade channels within its countries and produces over 500 quality products ensuring the highest health and food safety standards.
A go-to destination for a variety of customer-favourite brands available in several conveniently located supermarkets and express stores, Choithrams has become a household name in grocery retail, trusted by millions of families in the region. Recently acquired brands like Supervalu and Woolworths in the UAE continue to deliver on the company's commitment to serve its local communities with the highest quality products at competitive pricing.
A company that is always looking for opportunities to grow, Choithrams has partnered with several leading companies to further strengthen its reach. This includes partnerships with services that provide customers with fast and convenient delivery options like Talabat, Now Now and Instashop as well as more recent tie-ups with Deliveroo and Deliveroo HOP. The company has also recently announced a partnership with Rove Hotels, that combines retail therapy with leisure and helps extend its reach to the GCC's ever growing tourist population.
Additionally, Choithrams' e-commerce platform, allows customers to shop online and enjoy the same great products and services they receive in-store. "We recognise the importance of e-commerce in today's market, and we are committed to providing our customers with a convenient and reliable online shopping experience," said Rajiv Warrier, CEO, Choithrams GCC. "This together with our loyalty programme Bounz, helps meet the changing needs of our customers and enhance their overall shopping experience," he added.
One of Choithrams' biggest strengths is its unique combination of distribution and retail. A partner of choice to hundreds of major FMCG brands, Choithrams' logistics and distribution network handles regional operations with substantial warehousing and delivery capabilities. State-of-the-art infrastructure, omni channel coverage and unrivalled logistics and distribution expertise have helped the company maintain long-standing brand and trade partnerships. Recent partnerships with strong global and regional brands such as Coca Cola, Halwani, Goodys and Amul are testament to Choithrams' credibility as a leading distributor in the region.
On the manufacturing front, Choithrams' in-house labels Goodness Foods and Leone tea have grown to become hugely popular in the region. With over 500 products in its portfolio, Goodness Foods, brings the choicest selection of fruits and vegetables, juices, dry fruits, groceries and ready-to-eat meals to meet every customer need. Leone Tea is blended and manufactured by an in-house team and is served in more than 2,000 cafeterias daily.
The company has also made significant strides in sustainability and technology by implementing several eco-friendly initiatives in its operations, from reducing plastic waste and food wastage to promoting sustainable sourcing practices such as process automation to improve fresh imports. It is also well on its way to achieving the shift from conventional power to 100 per cent renewable energy, a crucial milestone in Choithrams' sustainability journey.