Choithrams launches all-women operated store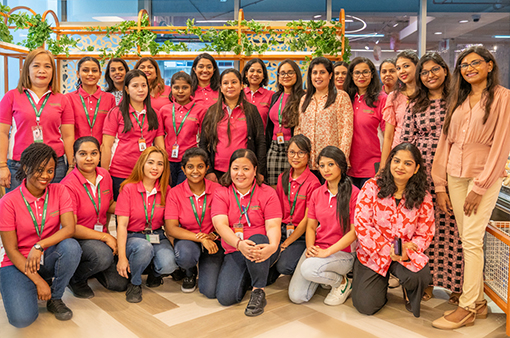 Sep 09 2023
A go-to destination for a variety of customer-favourite brands, one of the main USPs of this new store is the range of women's niche products that are not readily available in other stores
Setting a new standard for inclusivity in the UAE, Choithrams recently opened its doors to a brand-new store in Dubai's popular Marina Wharf 2 area. The new store which opened on July 19, is the first and only operationally women-run supermarket in the UAE, marking a major milestone for the brand. The store is entirely managed by female staff, with all roles from stockers to cashiers and the store manager being fulfilled by women.
"By giving women employees equal opportunity to be hired, paid, trained, appraised, rewarded, and promoted, Choithrams is positioning itself as a torchbearer in empowering women in organisations and corporations, in line with the UAE's roadmap for gender diversity in the workplace," said Rehana Raj, head of retail operations — UAE at Choithrams.
Rajiv Warrier, CEO at Choithrams GCC, said: "At Choithrams, we are constantly challenging ourselves on what we can do next to action our commitment towards a diverse, equitable and inclusive workforce. Our women leaders have done a remarkable job over the years, and we will continue to increase their representation in decision making roles in the future. The launch of this store is the first of many more women-led initiatives to come."
The new store will span close to 5,200 sq ft. The store will be open 24 hours, while also offering a free home delivery facility. A go-to destination for a variety of customer-favourite brands, one of the main USPs of this new store is the range of women's niche products that are not readily available in other stores.
Choithrams has always been dedicated to promoting diversity, equality, and inclusion in the workplace. The company has taken several initiatives to empower women and promote gender diversity in the UAE.
"The company's goal of attaining a minimum of 20 per cent women in its managerial positions by 2024 demonstrates its commitment to cultivating an inclusive and diverse workplace culture," added Natasha Ghosh, marketing manager – GCC at Choithrams.
With women making up the entire staff at this new location, this store is not just another supermarket; it is a testament to the fact that when women are given equal opportunities, they can achieve great things.