Choithrams partners with Rove Hotels to open 8 new stores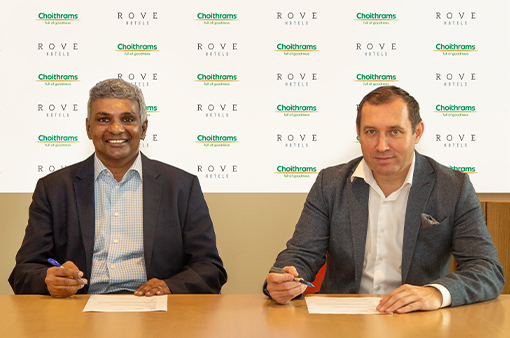 Dec 31 2022
Choithrams and Rove Hotels are excited to announce the opening of 8 convenience storesacross Rove's properties in Dubai.
Scheduled to open in the second quarter of 2023 these convenience stores will run 24 houroperations offering a wide range of fresh and ready-to-eat food and FMCG products to the hotels' guests and city residents.
"Providing convenience and great value to our Rovers are some of the most important pillars of the Rove brand. Hence, we are excited to collaborate with Choithrams to open 24-hour stores across our properties. Whether guests will be looking for amenities to complement their stay experience, or a quick snack after a day exploring the city, they'll be able to get everything without stepping out of the hotel." said Paul Bridger, COO of Rove Hotels
The first Choithrams convenience store was opened in 2003. In the recent years, there hasbeen a strategic expansion plan for the brand to have more convenience stores located across UAE.
"Choithrams already have stores at many key locations across Dubai, and Rove Hotels are the perfect partner for us to enter with, into this retail segment. Customer obsession is at the heart of everything we do and this partnership takes us further in our aim to be wherever our consumer wants us to be" said Rajiv Warrier, CEO of Choithrams.
The agreement signing event took place on 28th December 2022 and both brands look forward to an enriching and mutually rewarding relationship.