Deliveroo UAE launches new rapid grocery delivery service, partners with Choithrams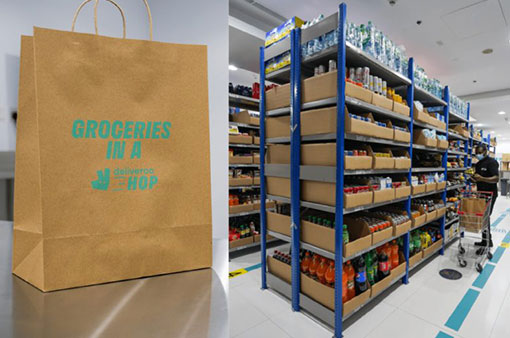 Jul 13 2022
Deliveroo Hop, in partnership with Choithrams, will operate its own delivery-only grocery stores offering customers on-demand groceries in as little as 15 minutes within a defined radius
Deliveroo UAE has launched a new rapid grocery delivery service, announcing its first Deliveroo Hop store.
Deliveroo Hop, in partnership with Choithrams, will operate its own delivery-only grocery stores offering customers on-demand groceries in as little as 15 minutes within a defined radius.
The latest service will see the integration between Deliveroo's newly-developed grocery management technology, the company's logistics algorithms and its network of delivery riders across the UAE.
Deliveroo's delivery-only grocery store aims to offer an elevated consumer experience, as it aims to have a near 100 per cent stock availability while leveraging its experience in the business and technology.
The first Deliveroo Hop store in the UAE will serve customers in Motor City, Sports City, Barsha South, JVC, JVT and Arabian Ranches.
Anis Harb, GM Middle East at Deliveroo said: "Residents across the UAE continue to look for increased convenience in their daily lives, and Deliveroo Hop with Choithrams aims to enhance the value proposition of our customer experience with on-demand grocery shopping. We are excited to be partnering with Choithrams for this launch to provide a seamless and convenient online grocery shopping experience. We continue to build on our passion for food and Deliveroo Hop reinforces the same commitment, enabling us to become the definitive food company. We are thrilled to launch our first location in Dubai and are excited to expand our reach to further locations in the UAE."
Rajiv Warrier, CEO GCC at Choithrams said: "We are proud to partner with Deliveroo in the launch of their stores in the UAE. The rapid delivery grocery service is evolving at an accelerated rate in the UAE. In line with our 'Full of Goodness' promise to our customers, our partnership with Deliveroo will provide more flexibility and convenience. The launch of this service represents a pivotal moment in our digital journey, enabling customers to choose from a wide selection of groceries from Choithrams and have them delivered by Deliveroo in as little as 15 minutes."